Have You Ever Wondered ...
Why Are We Here?
What Is God?
Who Am I?
What's the Discovery Game?
What Are Heart Clouds?
How Do Wishes Come True?
How Can I Live a Happy Life?
One hundred years ago, Ernest Holmes was asking the same questions, and many more, about who we are, why we are here, and about how life works here on Earth. In the 1920s, he published the answers he found in the book, Science of Mind. The timeless answers he discovered form the foundation for Religious Science, a religion that is now practiced in Centers for Spiritual Living throughout the world.
In 2012, Science of Mind Minister, Rev. Doug Yagaloff, envisioned a curriculum for children that would teach Science of Mind principles in an entertaining way. He approached spiritual psychologist and curriculum developer, Dr. Avianna Jones, to create a curriculum designed for use in Science of Mind Sunday Schools and by families at home. The development of the material was a labor of love for both of them.
The curriculum was launched at Asilomar in the summer of 2012. Sadly, Rev. Yagaloff made his transition to spirit in 2013. The 2016 edition was updated and relaunched by Dr. Jones to honor Rev. Yagaloff's vision of sharing this information with Science of Mind and New Thought families.
If you would like to know more about Rev. Doug's vision, visit the About page.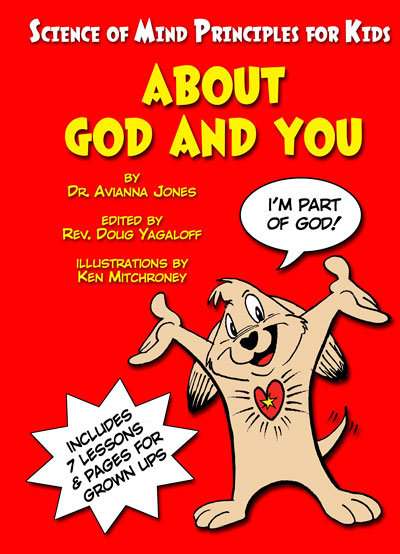 Sunny has lots of questions about life. Fortunately, her friend, Spot, is always there to help her find the answers she is seeking!

See the review in the January, 2017, Science of Mind Magazine!
Sunny and Spot Have Found Some Answers
Who Is It For?
Science of Mind Principles for Kids: About God and You  was designed to be used in Sunday School classes and by families at home.
It is intended for children pre-K through elementary school, although MANY adults preface their comments by starting, "I wish I had known these things when I was a kid!" And many say that the Heart Cloud lesson is a favorite.
Each Book Contains 7 Weekly Lessons 
For Kids
A short story featuring Sunny and Spot
Questions to ask children about their experiences
An "I Am" activity page
For Grown Ups
Suggestions for teaching each lesson
Activities
Quotes from Ernest Holmes' 

Living the Science of Mind

 to support the concepts introduced
How to Use the Book
While kids can read the book on their own, it's really designed to be a tool for you to use as you teach your child about YOUR personal spiritual belief system. There are discussion questions and prompts that encourage you to share your experiences along your spiritual path and what you have discovered as you play The Discovery Game.
Also, as you learn about "Heart Clouds" and the "Discovery Game" and other concepts presented, you will have some "kid friendly" terms to use to help children reframe their experiences. And some helpful tools to use as well.
IMPORTANT!
If YOUR personal belief system differs from some content here, PLEASE share YOUR beliefs with your children! Use the material as a jumping off point, and
HAVE FUN!
Website Resources
There are free resources for kids and grown ups here to download on the site. Activity pages for kids are free to download on the For Kids page. The For Families page has more ideas, too.

If you're using the lessons in a Sunday School or home school setting, check out the For Teachers page. There are lesson summary pages for you to print out and give to families, so concepts may be reinforced at home.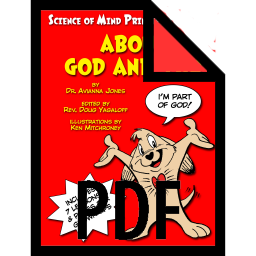 FREE 

pdf Download
To honor Rev. Doug Yagaloff's vision, you can download a free pdf copy of the book.
Go to the free pdf download page to receive your free copy. It's for your personal (non-commercial) use and for use in Sunday School programs, home schools, and children's groups. 
You can read the book on your computer and your devices that support pdf files (iPads, Kindles, etc.) and you can print the book out if you wish.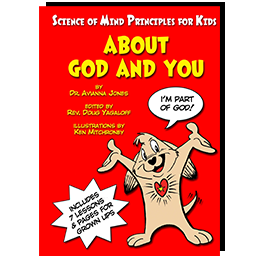 Purchase a Copy
You can purchase a copy from the book's CreateSpace page for $14.99. 
The lesson cost is $2.14 per lesson.
Your purchase supports the sharing of this work with Science of Mind and other New Thought families.
Thank you for your interest and support.
Price: $14.99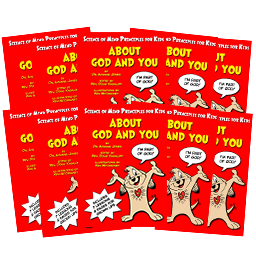 10 or More Copies
Wholesale pricing is available if you wish to purchase 10 or more copies for your Bookstore, give to your Sunday School children, or use in your home school or children's group.
You will receive a 27% discount, which brings the weekly lesson cost to $1.57.
Please contact me for a discount code.
Price: $10.99 each
Science of Mind Magazine, January, 2017, says ...

The Power Puppies are here to teach a new generation of Religious Scientists what it means to transform their thinking and their futures ...
Go on an adventure of self-discovery and Divine expression with the Power Puppies in this inspiring book for all ages ...
With clear and powerful concepts, the book is sure to set the stage for success no matter what age you are. 

These books really help children connect to the idea that we are one with God … and that we may use this presence to create a greater life right now. I know that as you and you children experience these books, it will help them understand their divine connection with God in a more real way. What a blessing it is to know these principles as we grow and begin creating our lives.
Rev. Janet Moore
Center for Spiritual Living
Newport-Mesa, California

I really enjoyed the book. Nothing fits better than a soft cuddly animal with personality. The Concepts are clear and can even be used in teaching adults!
Rev. Dr. Michael Kearney
Center for Spiritual Living
Palm Springs, California

I love the way you disguised "SOM for Dummies" as a book for kids. I'm an adult (in years) and a kid (at heart) … and your book spoke clearly to all of me. Great job.
John Brown
Idyllwild, California

The Science of Mind Principles for Kids FaceBook page is a great place for families and teachers using Science of Mind principles.
Connect with others who are teaching Science of Mind principles
Share what works for you and your family
Learn new ways to apply the principles to the children (of all ages) in your life